By Brittany Kirke
Our four-legged companions in Bay County can always use a helping hand, which is why the Bay County Humane Society Thrift Store is so excited to be celebrating their one-year anniversary at their new location this year. Primarily, the thrift store has been used to help fund the Humane Society's Animal Shelter. But they lost the thrift store in Hurricane Michael, and by the time Covid-19 rolled around, revenue was so low that they made the decision to close the shelter. Mary Gauden, President of the Bay County Humane Society, explains that, "You get animals that depend upon you, there are staff that depend upon you. There's a lot of things that depend upon you when you open to be able to keep going. So as frustrating as it can be to staff, to us, even to the public, it's not anything that we took lightly. It was one where we needed to secure the future of the shelter."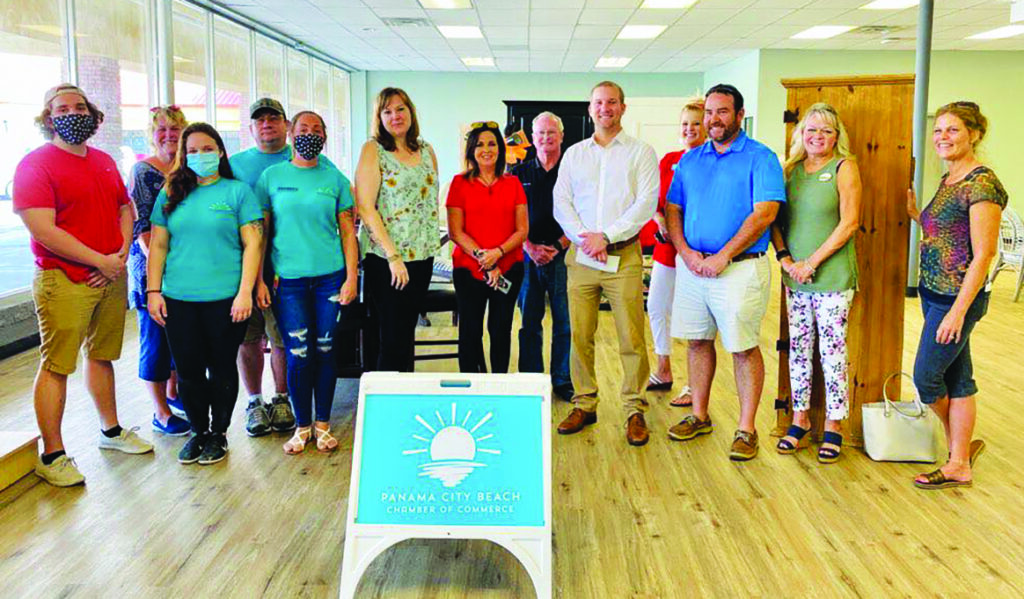 Thankfully, they were able to secure funding to allocate towards the thrift store and now they are open once again to serve our community and the furry friends we love. The focus is to rebuild the organization starting with the thrift store and then, once funding allows, bring back the shelter. Although the thrift store is not ready to sustain the shelter's reopening just yet, with support from our community and donations, we can work together to bring it back. Mary emphasized that their goal is to "absolutely 100% get the shelter back open but we have to be able to keep it open."
Mary Gauden has been with the organization since 2013, when she started volunteering on the marketing and event committee. Eventually, she joined the board as a member and has been there ever since. She worked as Vice President for a few years before taking over as President. Animals have always been easy for her to connect with, and she says it's rewarding. "It's something that I do that I care about that is personal to me to just help, to make a difference as much as I possibly can." And although she loves cats, she is most definitely a dog person. She has three dogs named Blue, Charlie, and Moose.
Lauryn Gill is the Thrift Store manager and has been with the organization since 2012. She was looking for a part-time job in high school and heard about the Humane Society and knew that she just had to be a part of it. She started out as a kennel technician and went full-time after graduating from Bay High School, working her way up to store manager. She says, "Working with this organization is so rewarding that once you have been a part of it for so long it stops being just a job and becomes this passion to reach goals and help the community."
The Bay County Humane Society Thrift Store offers a wide selection of products from home décor and appliances to pet supplies such as food, toys, and kennels. All appliances and electronics are tested before being sold to the public to ensure that they are operational. Lauryn stated that they "focus on quality over quantity" and ensure proper sanitization of all donations. Mary shared that "90% of [their] selection is donated, the other 10% is wholesale product." They also do research on their products to make sure they are priced fairly. The store also offers a rewards program in the form of a punch card: every $10 spent, you get a punch. At $100, or ten punches, you get $5 off. They also hold sales of all sorts during the holidays and throughout the year.
In addition to daily operations at the store, they continue to offer their low-cost monthly clinics for both cats and dogs at the thrift store location. They offer vaccinations, nail trimming, heartworm testing, de-wormer, microchipping, and flea treatments. Typically, on the third Saturday of every month, they pick a spot in the community to come out and perform these same services.
And be sure to keep an eye out on their social media (HSBC'S Thrift and Gift Store on Facebook) around the end of November for more information on their Pictures with Santa! The photos are done by Leslie Jones Photography and can be done by appointment, but walk-ins are welcome.
The Bay County Humane Society continues to welcome donations and volunteering. If you have any questions about their programs, feel free to contact Lauryn Gill at lgill@adoptme.org.