By Jeremy Neel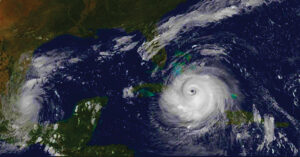 Dear Apex,
What suggestions do you have as to which items should be included in a hurricane preparedness kit? Amanda M.
Amanda,
Thank you for your question. As most of you know, hurricane season is right around the corner. Over the next months we will take the time to focus on hurricane preparedness. We will cover everything from suggested items in your hurricane kit, supply list, medical needs, property preparations, and even preparations for your pets.
Make sure your hurricane kit includes the following:
• Have on hand an extra supply of medicines
• Obtain extra cash
• Flashlights with extra bulbs
• Batteries (in different sizes)
• Battery operated radio
• Battery operated lanterns
• Matches
• First aid kit
• Duct tape
• Rain gear
• Clock (windup or battery powered)
• Plastic garbage bags
• Fire extinguisher
• Scissors
• Can opener
• Clean clothes
• Extra blankets
• Heavy gloves
• Respiratory protection with at least a N-95 filtration rating
When it comes to food and water, our suggestion is as follows:
• Pack non-perishable food for each person you are responsible for (3-7 days)
• Bottled water (one gallon/person/day)
• Bottle juice
• Two coolers (one for drinks, one for food)
• Canned foods
• Dry pet food
The following are recommended suggestions for your property:
• Remove outdoor items
• Trim dead branches from trees
• Board up windows
• Fill gas tanks and extra containers
• Move furniture away from windows
• Store important documents in waterproof containers
Next, let us discuss recommended suggestions for medical needs:
• Medic alert tags
• Insect repellent sprays
• Feminine hygiene items
• Sunscreen
• Soap
• First aid kit
• Prescription medication
• Over the counter medications
• Children's medicine
• Bandages
• Adhesive tape
• Antiseptic solution
• Thermometer
• And, yes, even a pair of tweezers.
Last, but not least, let's help you make preparations for your four-legged family member.
The following are recommended suggestions to help pets weather the storm:
• Water for 3-7 days
• Non perishable food
• Crate/carrier/tank
• Leash
• Collar and/or harness
• Favorite toy
• Blanket or pillow
• Clean litter box
• Updated shots and medical records
• Microchip with up-to-date contact info
• Any medications
• Calming aids
• Tags
• Puppy training pads
• Heartworm preventatives
• Rain gear
Please understand these are general recommendations.
We have a fantastic emergency management department in Bay County, and it isour intention to have them chime in next month to touch on evacuation preparedness, adding their extensive experience to the list in preparing Bay County residents as best as possible.
Thank you for your question, Amanda. Should you have any further questions, feel free to contact our office at (877) 307-3088, or email admin@apexisthere.com.