The Bay County Public Library has two stunning art exhibits on display throughout the end of May. The work of local contemporary artist, Christon Anderson, has a new exhibit hanging on both the Youth Services and Adult Services gallery walls. Two of the display cases in the lobby are dedicated to Ex Libris, a traveling exhibit featuring 14 artists from the Guild of American Papercutters. The exhibits are on view during open library hours.
Christon Anderson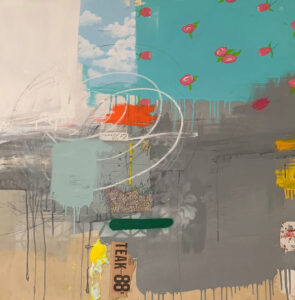 Christon Anderson grew up in Panama City and has been making art from an early age. Christon doesn't like to put his work into a specific art category. There are elements of realism that anchors the pieces, in addition to abstraction and mixed media. Christon enjoys the element of play in his work. The materials in this exhibit range from 1980s comics, a roller skate, fabric swatches, spray paint, cutout words, and more! He hopes the viewer feels something while experiencing his work. A few early inspirations include Robert Rauschenberg and Jean-Michel Basquiat.
"I'm drawn to the way Christon Anderson uses the various materials and pops of vibrant color in his works," shares Sarah Burris, Bay County Public Library Community Relations and Marketing Coordinator. "There are so many varying layers of texture and pattern, yet it all feels incredibly cohesive as if the elements were always meant to be together. And you can tell how much fun he has during the making process!"
Ex Libris

Ex Libris is a traveling exhibit from the Guild of American Papercutters that celebrates books and reading. The exhibit includes 25 hand-cut paper bookplate designs. Traditionally, bookplates are small, decorative cards adhered to the inside cover or first page of a book. The owner's name would be written or printed on the bookplate. Often the phrase Ex Libris, Latin for "From the library of" would be included in the design. Each artwork represents an artist's take on the bookplate motif, and is made of single or multiple layers of hand-cut paper mounted to a backing. The traveling exhibit was secured by local member of the Guild of American Papercutters, Heather Clements. Featured artists: Mindy Shapiro, Sarah Madison, Linda Harrill Peck, Petrina Case, Bianca Levan, Dave Jenkins, June Gengler, Kirstin Ineich, Linda Emmerson, Kathryn V. White, Jerise Fogel, Christine M. Cushing, David Reichard, and Kathy Trexel Reed.
For more information about the Bay County Public Library, visit www.nwrls.com or call the library at (850) 522-2100.