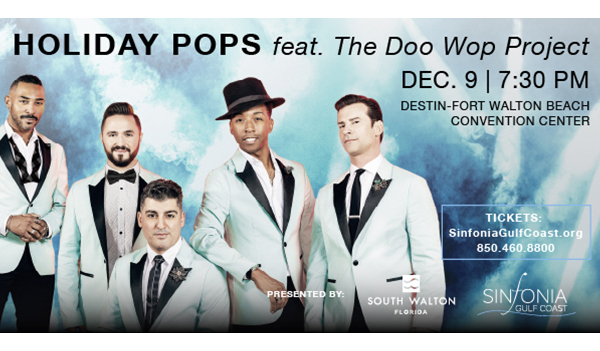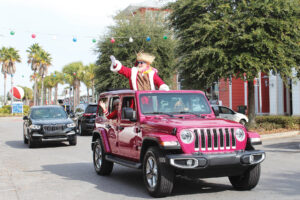 Pier Park Plans a Beach-Themed Welcome for Santa
Pier Park is excited to announce that Santa will be arriving – by hot pink jeep – on Wednesday, November 30 at 4 p.m. Dressed in beach attire, he will cruise through the mall sharing smiles and goodies with shoppers before settling into his newly-updated Pier Park home. This year, Santa's home will feature décor from the Southern Living Store. The jolly one will be available for photos daily from December 1 until Christmas Eve. Schedule your Santa Photo Experience with him on the Pier Park website. Reservations are encouraged. Set hours vary and can be found on the Pier Park website.
Beach Home for the Holidays in PCB!
'Tis the season for the seventh annual Beach Home for the Holidays in Panama City Beach! This Thanksgiving weekend, Visit Panama City Beach invites families to kick off the most wonderful time of the year with a fun-filled celebration at Aaron Bessant Park, featuring carol-themed concerts, s'mores, appearances by Santa, magical nightly fireworks and the lighting of the destination's 36-foot-tall Christmas tree. This year's Beach Home for the Holidays celebration will also include live performances by critically acclaimed country music artist Cam, and the magnificent Panama City Symphony Orchestra.
"We are excited to invite families back to Panama City Beach for this highly anticipated annual holiday event, says Dan Rowe, president and CEO of Visit Panama City Beach. "Beach Home for the Holidays is a great seasonal tradition for residents and visitors, and we look forward to hosting another memorable celebration with plenty of festive activities, talented musical performances and holiday cheer."
The weekend's festivities begin on Friday, November 25 with campfires, delicious s'mores, and the opening of Santa's Village. At 6:00 p.m., prolific country music artist Cam will take the stage at Aaron Bessant Park's open-air amphitheater for a must-see performance before the showstopping fireworks show.
To see a full schedule of events, please visit: https://www.visitpanamacitybeach.com/beach-holiday.
Holiday Home Check
The Bay County Sheriff's Office is offering Bay County residents the opportunity to request a Holiday Home Check while they are away from home over the upcoming holidays.
It's simple to get registered for Holiday Home Check. Just call (850) 747-4700 from 8 a.m. to 5 p.m. and request to speak with dispatch. They will need to know when you'll be gone, what cars may be parked out in front of your home, or if someone else may be coming to take care of a pet or get your mail. They will get your information and schedule your home to be checked on during the time you are away.
Enjoy some peace of mind and call to schedule your home for the BCSO Holiday Home Check.