By Brittany Kirke
"…I will give this gift, this child, Laura Viola, to Mary Scarlet for safe keeping…"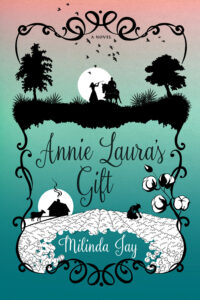 Annie Laura's Gift (March 2021) is a riveting novel set in Northwest Florida's pioneer past. Based on Milinda Jay's great-grandmother–and a dark family secret–this novel is the prequel to Annie Laura's Triumph (2016). Triumph was featured as a top Mother's Day Read by Parade Magazine. Robert Olen Butler, Pulitzer Prize-winning author, gave accolades to Annie Laura's Gift, proclaiming it "deeply resonant […] in this politically parlous age."
To uncover the mystery of her great-grandmother's identity, Jay was forced to search beyond the records of family history. Her frustrating search lasted seven years – through genealogy archives, old newspapers, and local graveyards. Told by distant relatives that she would never discover her great-grandmother's truth, and directed to "leave it alone," she left a final query on a genealogy website.
But it wasn't until 2009 that Jay received a phone call that would change her life.
The caller revealed that Jay's great-grandmother had a story that needed to be told, but that it must be heard by Jay herself. When Jay invited the elderly caller and her daughter to share their story over tea, the pieces fell into place. With tears in her eyes, Jay's new-found relative said "my mother told me this story. She told me never to tell it."
And so began the story of the tenacious and beautiful immigrant, Annie Laura Brock.
Prejudice, abuse, and greed throw perilous obstacles into Annie Laura's life. But with the help of her sisters and her friends, she is determined to leave behind her life of suffering and hardship and fight to build the life that will make her daughter proud.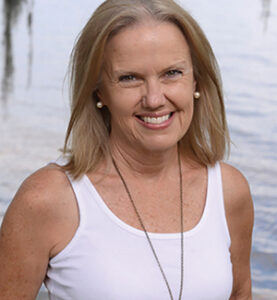 Milinda Jay is an eighth-generation Florida native residing in Lynn Haven, Florida. As a professor at Florida State University Panama City, she shares her knowledge of creative writing with the hope that her students will discover the heroes in their own families.
She states, "What I am is the sum of all who came before me." Her goal is to learn from the past and preserve the wisdom that might smooth the way for her children, grandchildren, and her readers. To purchase Milinda Jay's works, you can visit www.amazon.com or go to www.mupress.org to order the books directly from the publisher.
If you wish to know more about who Dr. Milinda Jay Stephenson is and what is it that she does, please visit her website, www.milindajay.com.