The Number Every Pet Owner Needs to Know
By Joanne MacPhee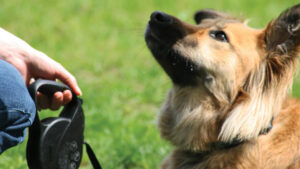 If you have or have ever had, a pet, then you get it. They are a loved and cherished member of your family and you will do almost anything to make sure they are provided for, safe, and healthy.
So, when they get sick or injured, it's like any other member of your family, you want them to get help, and you want it then and NOW. There may not be a 911 service for pets, but there is Animal Care Center on Front Beach Road. Open 24 hours a day, seven days a week, including holidays, Animal Care Center is the oasis in the middle of your desert of despair.
The clinic actually handles all of Bay County and the surrounding areas after-hour veterinary needs. Unable to provide the service themselves, local vets rely on Animal Care Center to handle their after hour's emergencies. It is a unique partnership that seems to work well, explains Animal Care Center's Managing Veterinarian, Dr. Matt LeBleu.
"Like most medical professions, there is a shortage of veterinarians nationwide. Add to that the difficulty in finding vets willing to work night shifts and holidays, and it is extremely difficult to keep a practice staffed and open 24 hours a day." Dr. LeBleu adding, "Most local veterinary practices in town have only one, maybe two vets, making it nearly impossible for them to offer ongoing, after-hours care and maintain a normal life. So, we fill the gap, providing around-the-clock service for their clients as well as our own."
In most instances, once an animal has been treated for an emergency at Animal Care Center, they are referred back to their regular vet for follow-up care. However, in cases where it is necessary to hospitalize a pet, Animal Care Center is able to provide that all-important continuum of care, until the animal is able to safely return home.
Animal Care Center is a fully-equipped veterinary facility, with four full-time vets, offering both standard and emergent care. However, as Dr. LeBleu explained, animals in need of very specific, specialized care may have to be referred to other facilities which have board certified specialists. "The local veterinary community is committed to providing the very highest standard of care, and we each have our areas of expertise, but as with treating humans, there are times when specialist care is required and if we are not equipped to handle the situation then we will refer a client to the proper provider."
We never know when a pet crisis may arise, but having Animal Care Center's number stored in your contacts is one way to ensure help is never far away. So do it now, 850 235 2877. Animal Care Center is located at 8501 Front Beach Road, next to the Promenade Mall.