By Jamie Zimchek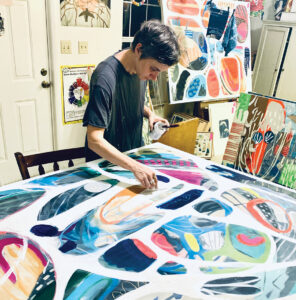 Liza Snyder makes art. But she doesn't just make art, she helps other people of all reasonable ages learn how to make art too, with great patience and a twinkle in her eye. If you've had occasion at any point in life to help a seven-year-old paint, having cleaned paint off the walls, floors, clothes, and cat in the aftermath, you might have an inkling just how special Snyder really is. "I love sharing art with kids and other women as much as I love creating," she says. In the midst of a pandemic, her infectious enthusiasm is a lovely counterpoint to other infectious alternatives.
"Like so many, I considered myself an artist at an early age," says Snyder, "But my creating didn't really flourish until I decided to study art as an undergrad at Auburn." There, her focus was printmaking, but after college, she took a break, a ten year break, from art. "A kind of "awakening" occurred at that ten year mark," Snyder explains, "and I knew I needed to begin again." Now, you can find her in her studio daily playing, exploring, or filming her latest workshops.
Seven years ago, Snyder made the move with her family from Birmingham, Alabama, to the Florida Panhandle. Initially, she opened her studio just for summer art camp, but this soon evolved into a teaching position at Bay Elementary. "I loved teaching in a public school setting, but didn't have time to create myself," she explained. After two years, she opted to refocus. "I came back to the studio and taught weekly homeschool art classes and women's workshops… while creating again!"
Inspired by artistic greats like Joan Miro, Yayoi Kusama, Henri Matisse, and Egon Schiele, her work is a joyful mix of play and exploration. Sometimes she draws on the way she's feeling for material, other times her environs, whether it's the woods nearby or Choctawhatchee Bay, which she can see from her window. These days, her originals are often paintings and drawings, but she also pulls in cyanotypes, natural dyes, textiles, and even paper mache sculptures. "I hold onto the 'rules' of art loosely!" says Snyder, "In fact, I encourage the term 'Art Explorer' in the studio."
In previous years, Snyder taught a variety of classes out of her home studio, from weekly homeschool art classes to women's workshops. Courtesy of covid, her classes have moved online. "I miss my fellow creatives in the studio," Snyder says, "but this shift to teaching online has created really cool connections with families from all over the world!"
Aspiring creatives have several options. 'Art School with Liza' is a monthly membership that provides an art curriculum for kids ages 5-11. Doors will open to this art curriculum again February 20-23. These highly engaging lessons are prerecorded and can be accessed any time. Art workshops for kids and women are available year-round online, or look for free kids how-to-draw videos on Snyder's blog, which you can find along with online classes on her website.
Find Liza Snyder at www.lizasnyderart.com, www.facebook.com/lizasnyderartist, or www.instagram.com/lizasnyderart.