Friends of Camp Helen are welcoming 2021 with a bang! The eighth annual Americana Music Concert series in the Lodge at Camp Helen State Park will be online this year beginning Saturday, January 16, 2021 from 6:30-8 p.m. The free concerts continue Saturday, January 30, February 13, February 27, and March 13 with some of the best American Roots musicians touring the country today. The concert series is hosted by Lucky Mud and sponsored by Florida's Department of Environmental Protection and the Friends of Camp Helen State Park. For the first time ever, these concerts will be available online on their Facebook page (www.facebook.com/friendsofcamphelen).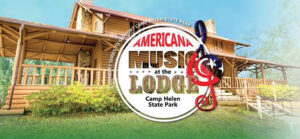 The first show kicks off January 16th, 2021, with a very talented and prolific singer/songwriter from London, England named Rupert Wates. Rupert's music is as smooth as a soft hand on a bare leg.
The poet and guru of lyric mysticism, Tom Kimmel, is the featured performer for January 30th. A powerful wordsmith, Kimmel's music has been used in film and television, as well as covered by the best.
Lucky Mud (Maggie & Mike McKinney) return as the performers for the February 13th show. This duo is always unpredictable but never dull and as muddy as the Apalachicola River. SwampyTonk & Florida Folkabilly is the best description for Camp Helen's perennial series' hosts.
February 27th will bring the return of Wyatt Espalin from Hiawassee, Georgia. Wyatt's emotional music is heartfelt with deeply ingrained soul and a flourish of fiddle or guitar.
From the Smoky Mountains of Asheville, North Carolina, Nikki Talley is a treasure. Her music is smoky and rootsy with the feel of mountain air beneath you. Nikki, along with her amazing accompanist, hubbie Jason Sharp, complete our 2021 music series on March 13th.
One sponsorship will be available for each show which includes a private live viewing for 10 people. For more information, email Courtney@friendsofcamphelen.org.