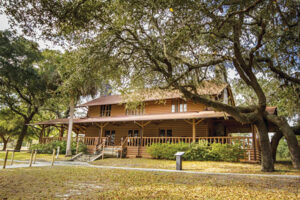 Americana Concerts in the Lodge at Camp Helen State Park are back and better than ever every other Saturday from January 8-March 5 at 6 p.m. For the first time, this year tickets will be available in advance online at Eventbrite.
The link will be posted on our website and Facebook page the Saturday before each show. There will be limited seats available for each show so they will book quickly and only two reservations per email allowed. NO exceptions will be made.
Only guests with reserved tickets will be allowed inside, but fans not able to attend live shows can watch online thanks to Visit Panama City Beach's sponsorship. Details will be on the FOCH Facebook page the week of each show.
The series kicked off January 8 with Passerine. Harmony, musicianship, songwriting and extraordinary vocals, Passerine has it all… and then some.
On January 22, the FOCH welcome Paul Kamm & Eleanore MacDonald to the Lodge. They offer haunting melodies, strung with some of the best, most intricate harmonies ever heard. Beautiful voices, rich songwriting and stellar musicianship are the hallmarks of this California duo.
With a big voice, bigger heart and killer lyrics, Ellen Bukstel graces the stage with her amazing stage presence on February 5. Never one to shy away from truth, she sings about it all.
Reckless Saints and their Blue-Twangled Folk n Roll performs February 19. This duo has a grace with words, musicianship, vocals and harmony that's unrivaled. Live shows are a must see.
March 5 sees The New 76ers (thenew76ers.bandcamp.com) take the stage. The audience can expect a cloud 9 performance as The New 76ers close the series. Familial harmonies and divinely inspired musicianship and songwriting set this Tallahassee trio apart on the highest level of art.
The Friends of Camp Helen are also renting kayaks year round for the first time ever. Kayak/SUP rentals are available 7 days a week by online reservations ONLY. Reservations must be made 24 hours in advance. Kayaks will remain open for reservations through the Winter and open for walk-in business March 1.
Camp Helen State Park is located at 23937 Panama City Beach Parkway (Highway 98), Panama City Beach, just west of the Lake Powell Bridge.