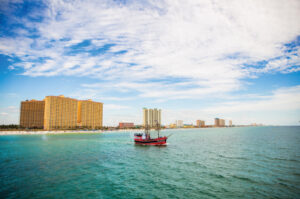 Panama City Beach is pleased to announce that it is virtually hosting its annual Pirates of the High Seas Fest on October 5th -11th, 2020. The destination invites kids of all ages to find their sea legs and join one of the most popular celebrations of the year from the safety and comfort of their own homes. From a virtual scavenger hunt, social media costume contest, magic show, a pirate battle streamed live online and the chance to win a free vacation to the Real. Fun. Beach., this year's virtual event will bring swashbuckling adventures with just the click of a button.
"While we are not hosting our traditional Pirates of the High Seas Fest due to COVID-19, we are thrilled to offer a virtual adaptation so that kids everywhere can join in on the fun," says Dan Rowe, president and CEO of Visit Panama City Beach. "With a variety of pirate-themed contests and prizes, we look forward to a truly unforgettable experience."
Panama City Beach's Pirates of the High Seas Fest celebrates the legacy of the pirates who once roamed the Gulf of Mexico and pillaged the Emerald Coast, telling the tale of Dominique Youx and his krewe of loyal buccaneers through staged pirate battles and storytelling. Kids will learn the old legend of how these mighty men fought to defend Panama City Beach from invaders that wanted to steal the destination's jewels in the early 1800s.
Saturday, October 10th – Tune in Live on Facebook:
2 p.m.: The Invasion and the Battle for Panama City Beach
2 p.m.: The Defeat of the Pirates – a pirate Invasion and the Legend of Dominique Youx, with a pirate concert from Tom Mason & the Blue Buccaneers
Visit Panama City Beach on Facebook or visit www.visitpanamacitybeach.com/piratesofthehighseas.