By Maggie Little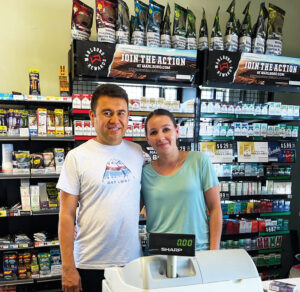 "This is it, I'm going to die right now," remembers Sara Pulatov, business owner of the Blu Convenience Store & Deli in Panama City Beach. The day was April 10, 2021, and it was the day she felt the swirling destructive winds of a tornado (later rated an EF2) score a direct hit on her family store. The tornado demolished their building, ripping the roof off and hurling it onto a house nearby. "If it had not been for my husband, my superhero, I would not have survived," Sara says. She remembers that heart-rending day when her world was turned upside down. It started with an emergency weather alert on her phone at 9:15 a.m. while she was working. Seconds later her husband, Tom, dragged her from behind the counter where she had been standing into the office. "I would have never thought to go inside the office, but my husband knew the office was actually a separate building from the store, and he saved my life by taking me in there," Sara remembers. "I am just so thankful to be alive."
Now for the other hard part: starting over. "This store was our baby – we started it from nothing," Sara recalls. With so many memories and so many hours invested, it was like a part of them died when the store was destroyed. This isn't the first calamity the couple has endured. Remembering Hurricane Michael, Sara recalls reopening the store the very next day. "We were the only store open for two weeks following Hurricane Michael and worked tirelessly to provide needed supplies for our customers. We love our customers and the relationships we have with them, and we love this town. We are excited to reopen yet again after this tornado."
The couple, both originally from Uzbekistan, met in 2004 in Panama City Beach while Sara was living here and Tom, from St. Louis, happened to be attending a wedding in the area. They fell in love, started a family, and worked relentlessly to set up Blu Convince Store & Deli in Panama City Beach in 2014.
At first, they envisioned Blu Convince Store & Deli offering everyday conveniences with frozen pizzas. Then, at the suggestion of a family member, they started serving homemade pizzas with only fresh ingredients. Sara remembers making the first pizza dough, "I made the dough from scratch and everyone loved it." Sara and Tom had found their niche, serving delicious pizzas with over 13 options and a plethora of mouthwatering toppings. Pretty soon the menu expanded to calzones, fresh subs, a variety of flavorful appetizers including calamari and bruschetta, and cherished classics such as chicken fingers, fries, and onion rings. They even began to carry lighter options such as Cobb, Caesar, and Greek salads as well as several hearty breakfast items.
Local loyal patrons of Blu Convenience Store & Deli have rallied around Tom and Sara, giving them the energy and courage to reopen right next door to the ruins of their former location. One customer even started a GoFundMe account to raise funds for the new store which you can find here: https://www.gofundme.com/f/help-build-back-blu-convenience-store-deli?utm_campaign=p_cp_url&utm_medium=os&utm_source=customer.
The new storefront is located at 17836 Front Beach Road Panama City Beach, FL, and is open from 6 a.m. to 10 p.m. seven days a week. You can still find the same delicious menu options and the same local loving care as well as any everyday convenience you might need. Stop by, shop, and grab something from the menu and you will be glad you did.