PCB Chamber Spotlight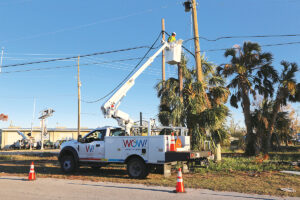 When the pandemic hit, staying connected became more important than ever, especially for Panama City's small businesses. WOW!, one of the nation's leading broadband providers, has proudly served residential and business customers in Panama City for years; the company considers the community's residents its friends and neighbors, and continues to improve its products and services in the area.
So it's no surprise that when Bay County's small businesses needed help the most they looked to WOW! Business for a valuable edge. Through the Local Advantage program, Panama City's business owners can gain exposure and reach potential customers by appearing in WOW! Business advertising at no extra cost. WOW! produces the ads, which run 1,000 times on a variety of networks for 12 weeks. More than 100 of WOW!'s Panama City business customers have signed up for the program.
The offer is available to new WOW! Business customers who sign up for a 12-month term, either 120Mbps or faster high-speed Business Internet, or Internet bundled with a Complete Phone line. Additionally, WOW! Business is supporting its customers with offers like its small business bundle, which includes 120Mbps of fast reliable Internet, two months free service, a $500 visa reward card, free modem for six months, free installation, and a Local Advantage advertising spot. WOW! is also rolling out new products and services to Bay County business customers like high-speed, symmetrical Internet, that allows for upload and download speeds of up to 1 Gig. Interested business owners should visit wowforbusiness.com to learn more.
"We love WOW! Business," said Randy Williams, president of 104.3 ESPN Northwest Florida. "Their Local Advantage program really shows their dedication to our local SMBs and their continued success. I would recommend a business relationship with WOW! Business and participating in Local Advantage which can really help to grow your business."
"We are thrilled to contribute in such a big way to Bay County's and Panama City's strong comeback," said Cil Schnitker, senior field sales manager for WOW! and long-time Panama City resident. "Internet, cable and phone services play a critical role in the professional and personal lives of Bay County's residents. The company continues to stand in support of this community and its employees."
The company's employees also have a strong tradition of giving back to the community through its WOW! in the Neighborhood volunteer program. During the holidays, employees provided gifts to 25 Panama City foster children through the team's Adopt a Child program. WOW! also donated to relief efforts following Hurricane Michael.