Living on the coast, we do not have to go too far to be inspired and find that perfect color palette for our beach homes. It is right outside our doors! Our sunsets alone can be inspiration for a home. The ray of colors and shapes in those sunsets and sunrises, the ever-changing colors of the ocean with beautiful deep blue and teal hues, the seashells under the water surface glistening in the sun, the multitude of sea life and all the beautiful beach elements around give us plenty of colors and shapes to create some great ideas and color palettes for our coastal space.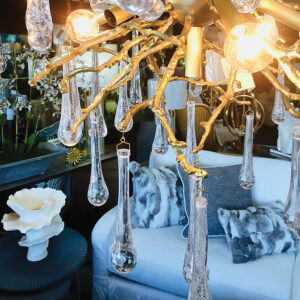 One of our favorite sunset color palettes for a coastal home has some shine, a little bit of crystal, some gold, some blue hues from our beautiful sunsets, that deep ocean blue, and some neutral colors from our beautiful white sandy beaches. With the right selections in this color palette, it will all come together in perfect balance for that sunset coastal look. Tassels Interiors offers an array of coastal lighting, furniture, tile, and accessories for your next project and their designers are always available to guide you to get that perfect coastal look.
Our top picks for countertops for this look are Blue Pearl granite, Port Rush Quartz, and Mayfair Quartz. Blue Pearl granite is a darker choice with beautiful hues of blue that shine. Port Rush and Mayfair Quartz are Cambria Quartz. Cambria is known for their unique countertop designs and have some of the best quartz designs for a coastal look. Port Rush is a beautiful quartz with navy blue veining and tiny specs of gold, and it is stunning. Mayfair has different hues of blues, greys, and whites with just a little sparkle through it. Both of these quartz varieties have just enough shine for a coastal space. You can visit www.CambriaUSA.com to view these or stop by Granite Plus and we would be happy to order you a sample.
If you are just getting started building or remodeling your coastal home, it is not too early to start thinking about paint color, cabinets, countertops, lighting, tile, etc., as this all takes time to choose and create a balanced color palette for your beach home. Countertops are going to have a large impact on your space. When searching for countertops, bring some photos of lighting you are considering, paint colors, flooring samples and any inspiration you are using to create your coastal space to help guide the process.