By Pam Anderson
The Capt. Anderson family has been taking families and friends fishing since 1935 in Bay County and since 1957 from Grand Lagoon. And, we plan to keep going for generations to come!
March is finally here! Great weather and calm seas! Painting, repairing, USCG inspections are behind us – let's go fishing!!!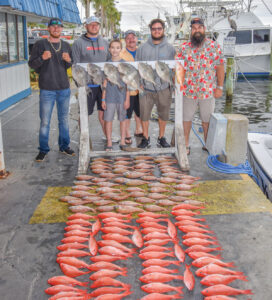 Head Boats and Charter Boats are out for Triggerfish, Vermilion Snapper, and Red Grouper.
Guide boats are out for speckled trout and redfish.
All are watching and waiting for Spanish Mackerel and Cobia to make their runs. Exciting times!
In addition, you can fish from shore and some piers with your own license you purchase locally, at Half Hitch Tackle, for one. But fishing is always more fun on a boat!
When you return with your catch, you can have them cleaned for you at the Anderson Seafood Market. There are several local restaurants in Grand Lagoon that will prepare your fish for you. We call it 'Hook 'n Cook'. The restaurants provide the side dishes, as well. Yay for Mom-no cooking!
Our senior citizens who are visiting are getting out and about with the better weather, able to enjoy cruising and fishing and beachcombing-love it!
Whether you just love being out on the Gulf in the fresh air, or sunning yourself on one of their upper decks, boating out of Grand Lagoon is the place to be. It is the most healthy way you can spend your days…. sunshine and fresh air.
In the Grand Lagoon, you can find 24' bay fishing charter boats to 60' Gulf fishing charter boats that carry 2 to 20 passengers and, also, up to 92' head-boats that carry as many as 80 passengers. All of these boats have the permits and proper licensing necessary for fishing. Capt. Anderson's Marina has 31 Charter Boats, 8 Guide Boats, 4 Dive Boats, 3 Head Boats and 1-200 passenger sightseeing boat, the Capt. Anderson III.
Did you know the Anderson family has been taking visitors and locals alike to Shell Island since the 1950s? Yes, we have. And with all the community being protectors of that 7-mile pristine beauty, we can continue to see it just like in the 50s. Leave no trace, as they say!
The Event Center is bustling with weddings, seminars, business meetings, retirement parties and the like. What a beautiful waterfront view of Grand Lagoon! Make plans now for your special event.
Red Snapper season opens June 1. Be sure to reserve early! We have Head boats running 5-hr, 6-hr, 10-hr, and 12-hr day trips, as well as our 8-hr night trips. They always book up early.
We are looking forward to seeing our visitors returning and enjoying all that beautiful Grand Lagoon has to offer here on Panama City Beach.
Signing off from,
Capt. Anderson's Marina…Where the fish are always biting and the kids are always smiling.
Visit www.captandersonsmarina.com.